Content Services Platforms - Factors to Consider when Selecting a Platform​​
Designed to help businesses digitally manage information across their organization, Enterprise Content Management (ECM) systems have been addressing business-centric and back-office requirements for decades.  As organizations increasingly look to consolidate platforms, move to Cloud and SaaS offerings, there is further need for more collaborative processes that span across organizational boundaries.  This demand has led to rethinking of how content is managed and introduced new vendors with Cloud native (SaaS)  and Collaborative platforms, to meet the changing requirements of how people work with, integrate with, and collaborate with information.
In response to these trends, analysts, such as Gartner and Forrester, have defined these new platforms as Content Services Platforms (CSP).
CSPs are integrated platforms that provide content-focused services, repositories, APIs, solutions, and business processing tools to support digital business operations and digital transformations. CSP use cases include the traditional ECM document management, back-office processing, business process applications, and governance. As well as more collaborative, ad-hoc, and content-centric, and device-agnostic (mobile) use cases. CSP services and data may also integrate with external, non-native repositories and applications through pre-built connectors, API development, or pre-packaged integrations. CSPs have web, desktop, and mobile app interfaces that enable users to navigate through and work with the different content services. The platforms may also offer pre-built solutions for vertical and horizontal content processes, such as case management, legal matter management, and contract management. CSPs are available as on-premise, hosted services, in the Cloud (SaaS and/or PaaS), or in hybrid architectures that combine Cloud and on-premise storage and/or services.
The Evolution of Enterprise Content Management (ECM)
In its inception, ECM looked at managing all types of content and information (e.g., data, contracts), workflow, governance (i.e., compliance), and records management as a single system or platform, often integrated into the organization's infrastructure and focused on business processes and back-office operations.  That was the natural emergence of what was referred to as Enterprise Content Management, from the early 2000s to 2017. Although many prominent vendors were active in the ECM space, including IBM, EMC, OpenText, and Oracle, their solutions were tailored to their enterprise clients and often dictated the interface and user experience. As a result of this somewhat structured and limited environment, there was a resistance toward adoption.
As business requirements changed and organizations looked to include more ad-hoc and external collaborative capabilities, the industry led to more vendors and technologies being introduced to address these new requirements.
The adoption of these collaboration-based solutions was strong, but they did not necessarily break down complex index relationships or link content to a transaction. This diaspora resulted in a clash of the traditional solutions and the emerging, more collaborative platforms. Within the last five to eight years, as of 2021, the industry started to see the push toward Cloud services, with the introduction of solutions such as box.com, Microsoft SharePoint, OneDrive, and others.  Although these solutions began as simply a way to easily share electronic files, they turned into more collaborative content management platforms, focusing on the user experience, the adoption of mobile devices, and the making of content more accessible. Vendors also began to look at the broader content management space and recognized an opportunity to go beyond collaboration, positioning what would become content as a service; the idea of simply storing and managing content. The driver being that clients have more agile systems that can integrate across systems, making them more adaptive.
The Shift to Content Services Platforms (CSP)
Many businesses today are at a crossroads when it comes to their Enterprise Content Management maturity. They have made significant investments in their traditional ECM platforms, but are now starting to recognize their limitations. An increase in overall Cloud readiness is driving their search for a possible new solution. As they start to look at their infrastructure modernization strategy, they often contemplate whether they really need the multiple platforms or if they can standardize on a single alternative platform.
Gartner defines a Content Services Platform (CSP) as, "The foundational component in an organization for managing and utilizing content". CSPs offer the content management functionality of a traditional ECM but also enable integration with the critical applications that drive business processes. CSPs allow employees to work with content across devices and organizational boundaries seamlessly as a Cloud-based software solution.
Content Services Platforms include the following
core capabilities
: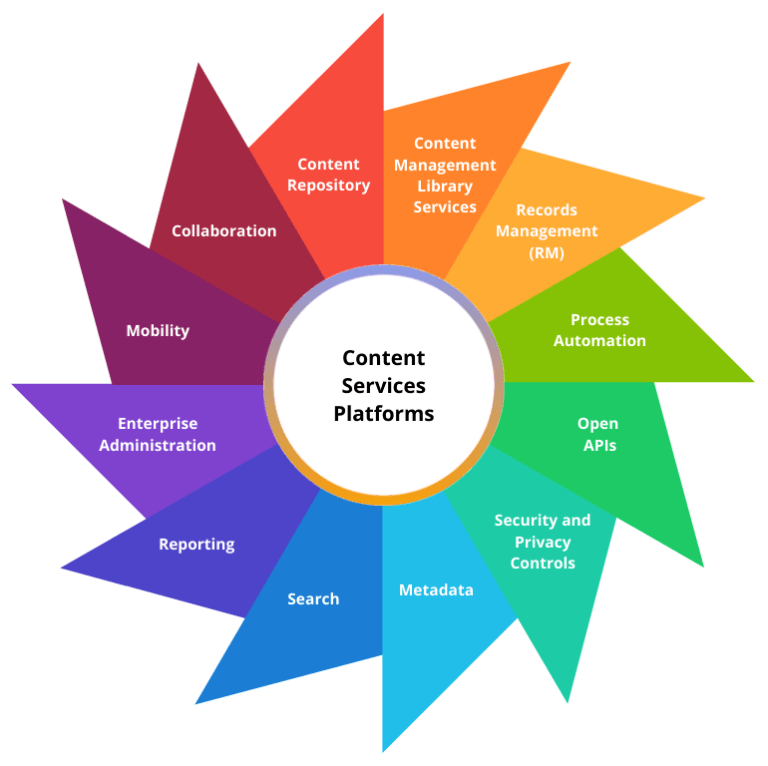 The shift from ECM to CSP has resulted in changes to workflows. Employees are heavily influenced by how they create and share their content on their smartphones, and these preferences and behaviors have spilled over into their work environment. Implementing a successful CSP strategy requires organizations to have a solid understanding of how their employees want to create, store, and access content.
Factors to Consider in Selecting a Content Services Platform
As a consultancy, VersaFile does not necessarily subscribe to the idea of Enterprise Content Management as a single system. ECM is more about having a strategy and a program that sets standards, guidelines, and a cohesive ecosystem for managing and working with content. Our approach, what we call Master Planning, involves understanding the functional requirements around the different types of content and records our clients manage in their organizations.  The solution is developed with a focus on the business processes, both the document-centric and process-centric work taking place and the capabilities that are required to take the workers from start to finish in an optimal manner. We foster this goal by being technology-agnostic and by utilizing our proven assessment methodology and assets to guide towards the future state. Once we understand the processes and the content purpose (i.e., content used in the business context or its natural order of existence), the downstream work becomes a fluid, systematic flow (e.g., Current State, Technology Assessment, Future State, Roadmap) to make decisions about whether one platform or another is better suited for the client ecosystem.
There is not necessarily a one-size-fits-all solution, and by understanding the actual use cases and how the content is being managed, decision-making becomes fluid and selecting the appropriate content services platforms to ensure that the needs of the business are met become apparent. At the same time, there needs to be some overarching governance to understand the different systems in the client ecosystem and which type of records or content belong in each.
1. Determine the Primary Role of Content
Content can be broken down into what we would call the business or transactional content. This includes content explicitly tied to core business operations, be it selling insurance policies and contracts, managing medical records, tracking accounts payable, managing inventory, or capturing packing lists. These are all examples of transactional records; that is, they tend to tie into some specific action or transaction. Even when we get into employee information and managing HR data, there is an employee record, and it is an individual-based one. Content is linked to the employee record and to the individual, whether it is their position application or benefits package or other.
The other aspect of content is the collaboration and authoring of content. The scenario raised questions focused on the users, such as who is working with the content, how is it being authored or created, what are the intended purposes, and so forth.   This is where we start to get into different scenarios with different use cases, which encompass the User Experience (UX). These scenarios and use cases are more adaptive and better align with the Cloud services that are offered in the industry. One aspect does not preclude another aspect, and the offerings can be, for example, applied to transactional use cases, by heeding the design model and how the content is being used.
2. Understand the Use Cases and the Functional Requirements (FRs)
Set up the framework of understanding for the use cases and recognize the functional requirements. Some key questions to consider are:
What are the business or functional capabilities that are needed?
Is the use case or business process a highly transactional one?
Is the use case tied to a specific process?
Are there any complex security requirements (e.g., external facing, periodic vulnerability tests)?
What are business system integrations and data sharing needs within the ecosystem?
What are the systems of records or source systems or source of metadata (e.g., customer or account data)?
A great example involves managing financial records. A regulation was recently passed around financial investments, in trading, that stipulated that any customer account number or account information had to be redacted from the record once it was processed. The challenge is that once it is redacted, the document can no longer be related to the account number and to the customer.  It is just an anonymous record. The goal is to protect customers' information from fraudulent activities, and the intent is that an employee's role in the organization will dictate whether the content is viewable or not. Therefore, clients start to encounter these scenarios where, based on a user's role in the company or privileges, the access rights to the document are determined dynamically.  As an example, in the Microsoft space, the solution does not allow to manage access at the document level.  In comparison, other solutions, such as IBM's, have very complex content security models that allow for managing access to an individual document and specific elements of that document. As clients determine their use cases, it is vital that they thoroughly understand their data privacy and security requirements, their functional capability needs, their existing technology footprints and roles, and their existing user challenges or frustrations.  As well, as their governance and compliance requirements for records keeping when selecting the platform to manage business-critical content.
The key takeaways here are:
Remember that there is not necessarily a one-size-fits all solution
Do not assume that the use cases warrant the selection of a single platform when evaluating technologies
Aim to use the correct platform based on the use cases and the business objectives, which makes the most sense
Get in touch! if you would like to know more about our advisory services and methodologies in developing an overall CSP strategy and program.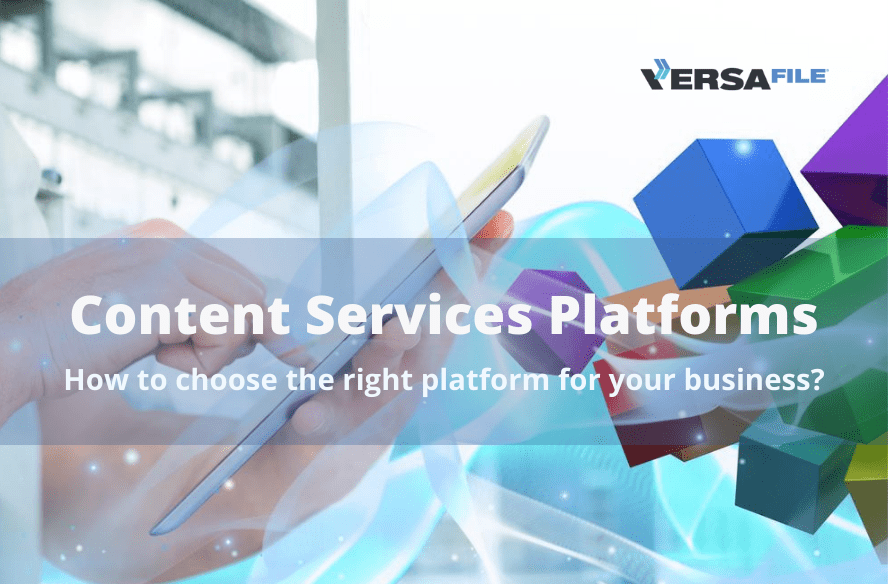 Sign up for future blogs and let us know which Intelligent Automation topics are of most interest to you.