docuflow for SAP is now Verified for IBM Cloud Paks
docuflow® and IBM® better together unlock the value of your SAP® content & free up teams to improve your business.
Vancouver, BC – June 11, 2021 – VersaFile Inc., a subsidiary of RKO Business Solutions, announces its docuflow solution is now verified for IBM Cloud Paks.
docuflow is a modern SAP Content and Process Automation solution that helps businesses reduce cost, mitigate risks and align with cloud strategies. Supporting SAP ECC, S/4HANA, SAP Sales Cloud, and Success Factors, docuflow, is an SAP Certified solution verified for IBM Cloud Paks and a Red Hat Certified Technology for seamless SAP archiving, linking and process automation experiences.
Combining docuflow with IBM Cloud Pak® for Business Automation businesses can transform, digitize and automate manual SAP document-based tasks and processes so they integrate across the organization, both inside and outside of SAP.
"VersaFile continues to partner with IBM because we are certain of the value its content and process automation solutions deliver to our customers across our broad spectrum of industries we service including Financial Services, Insurance, Energy, Manufacturing and Government." – Sean Fitzpatrick, Principal/CEO
docuflow, a modern ArchiveLink solution, gives organizations a jumpstart on the move to SAP S/4HANA by minimizing the S/4HANA footprint, opening the door for greater digital automation of SAP tasks and processes, and streamlined ArchiveLink migrations to the cloud. The docuflow SAP Extension Kit is available on the IBM price list, making it easier and faster for IBM customers to buy and implement docuflow solutions and start earning value.
For more information:
Check out the IBM offering on the IBM Cloud Pak Solution Showcase or contact us or your IBM representative for a no-cost demonstration.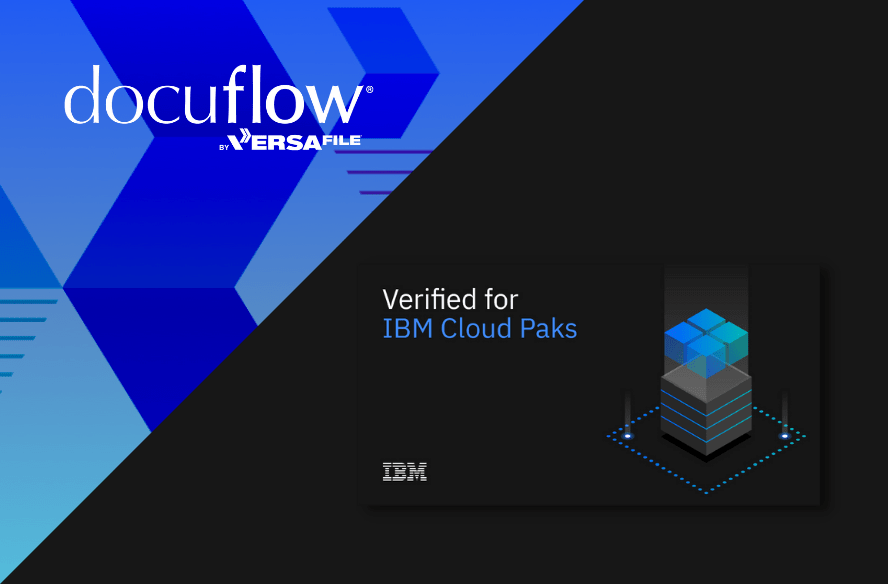 Sign up for future blogs and let us know which Intelligent Automation topics are of most interest to you.