Give your IBM Content Collector for SAP a BOOST!
Archiving is table stakes, go bigger!!!
Modernization – Automation – Governance… We talk to SAP customers around the world every day, surveying them and the marketplace, there are 3 reasons why SAP customers are making changes.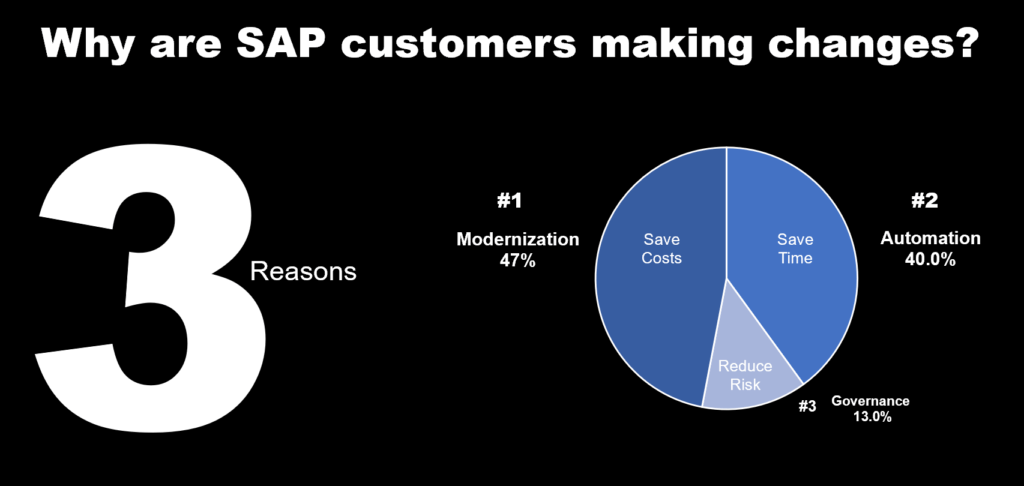 #1 Modernize infrastructure to save costs
Moving workloads to the cloud (particularly content and archived data) and replacing customer code with no-code/low-code tools is the money maker.  You should be getting net savings of hundreds of thousands annually. One customer, the University of Mississippi modernized and will save $ 1 million…net, over the first 5 years.  In addition to saving cash, they now have modern agile systems allowing them to do more of those automation tasks they could never get to…which brings us to…
#2 Automate tasks and processes to save time
The second most popular reason is to address immediate automation needs that save user's time.  What are we seeing? Too many manual data-entry steps, email-based processes and spreadsheet tracking still exists…it doesn't seem like it should be true, but it is, and we have learned why as we started to introduce no-code/low-code tools.   
When every automation project is long-tail and starts at $100,000, you just can't justify it, so only the big problems get solved. Adding in no-code/low-code tools help to overcome this challenge so you can start to automate what we call micro-tasks with no custom coding. As my old boss used to say, "even small animals make manure!".  Ok, stick to the program.  Interestingly, those who initially go down the modernization path find it a natural foundation to continue down the automation path.
#3 Improve governance to reduce risks
Good old governance and compliance coming in third again!  While reducing risk is a distant third, we anticipate this will grow more rapidly as most SAP customers assess and plan their route to S/4HANA.  This just might be the opportunity to slip in a little bit of info governance with a little push of course from GDPR. 
So that's all interesting, but exactly how are SAP customers saving time and cost? 
 Again, based on very unscientific data from our customers and the marketplace (but you can still see the trends), the top ROI earners are avoided custom code and lower IT sustainment costs.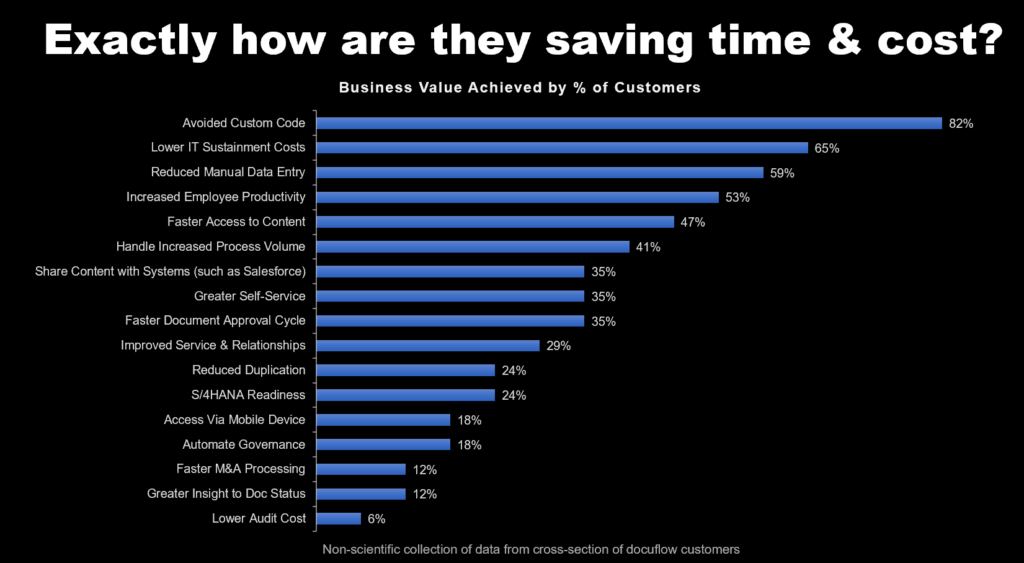 So now let's get to the IBM Content Collector for SAP part.  ICC for SAP provides the core, but only the basic content and data archiving.  This is what we call the table stakes.  Most organizations are doing some level of this by now, if not with IBM then with one of the many other vendors out there or possibly with a home-grown solution.  But the pressure in many organizations is building to generate net new ROI, particularly when planning the move to SAP S/4HANA.  So what do I do with ICC for SAP that can't be stretched any further?  Before you start looking to replace it, why not give it a refresh and extend it?
If you are running ICC for SAP, you will likely be approached by your Account Execute to trade up to IBM Cloud Pak for Business Automation (CP4BA). This is worth considering since the ICC for SAP stack comes with CP4BA and it might even make sense to push the whole thing to the cloud and have someone else look after it.  So that's the modernization bit. 
With CP4BA, you now have access to a host of automation tools, many of which are no-code/low-code to start discovering and automating many of those micro-processes.
Using procure to pay as an example, we can illustrate how you can modernize with No-Code/Low-Code solutions to automate micro-processes.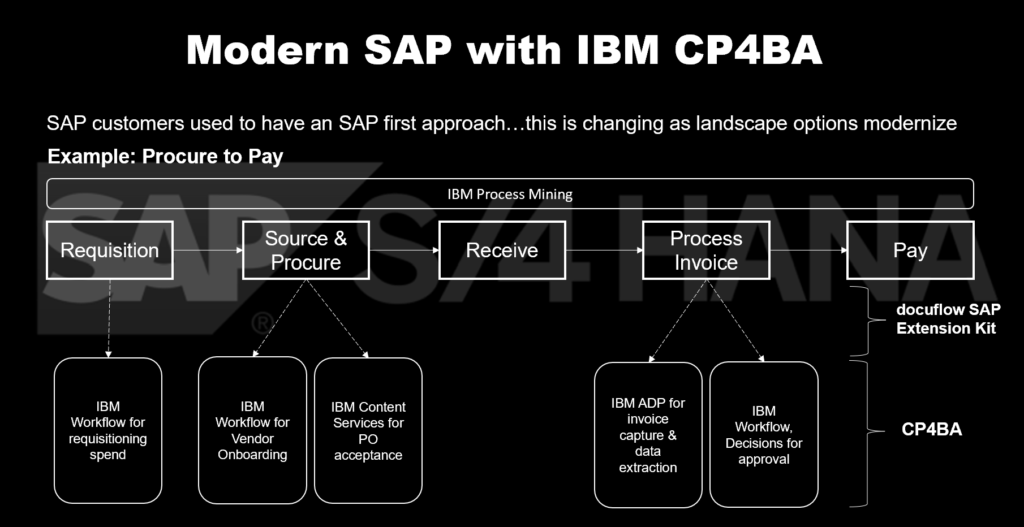 And here is where docuflow SAP Extension Kit comes into play.  We extend ICC for SAP and other SAP ArchiveLink solutions with bi-directional integrations with IBM workflow and business automation tools.  Because docuflow has a footprint within the SAP boundary, and we are no-code/low-code, we safely open the doors to orchestrating and automating SAP tasks and processes both inside SAP and outside of SAP where it makes business sense to do so.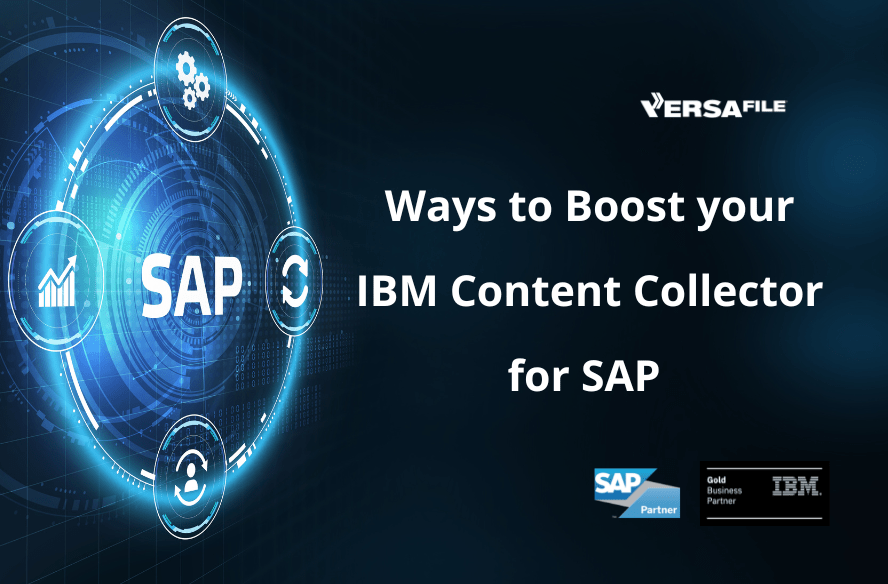 Sign up for future blogs and let us know which Intelligent Automation topics are of most interest to you.