Do I need a document management integration for SuccessFactors?
…or should I just use the built-in attachment capabilities?
Common challenges with HR information management systems built-in attachment services
In our humble opinion, there are at least 5 reasons why you want to consider a 3rd party document management system for not only SuccessFactors but most any HR information management system (HRMS or HCM).  This is not information we went looking for, rather this is based on requests and feedback directly from our customers who use docuflow for SAP.  The top five are:
It's difficult and inefficient to find and retrieve documents, its hunt and peck one at a time, one employee at a time.
Opportunities for employee self-service to generate, add or view "their" documents are limited.
It's inefficient and higher risk to apply corporate governance policies against content locked away in an isolated system.
Customers already have one or more content management systems (CMS) for documents and records, with integration, they can use this for better functionality and greater efficiency.
SAP limits storage to 500GB, customers will hit this fairly easily, and while you can always just pay more money, why not leverage your lower-cost existing CMS capacity, particularly if it is cloud-based.
OK so those are the challenges and complaints, what does that translate to in terms of needs and what value would that generate for an organization?
Key Capabilities you are missing out on without a solid document management integration
Again, in speaking with customers, the key capabilities they are seeking for HR document management are:
Employee Self Service (ESS) – Ability for employees to generate key documents such as employment verifications, or upload and retrieve files they are allowed to access on their own.  Having this capability minimizes the burden put on HR or a business manager to do these activities.  The value is more efficiency and better employee experience.  Asking someone else to do the task, assuming the steps are simple, takes more steps, clicks, emails and processing.  OK, so it only saves 5 mins, but multiply that by thousands and thousands of requests per year, and those minutes add up.  Do the math for your organization, we would love to hear the numbers!  But even more important than saving time is the convenience and instantaneous results of being able to easily do it yourself.  Just one less piece of friction to keep our employees happy.
Document Search – improve the ability for HR operations and business managers to search and access employee files that are within their realm of responsibility.  Search should be flexible enough to search on many factors including by employee, region, department, document type and or just by text in the document.  The value?  Saves time!  Today, this task requires a lot of switching roles, browsing, button clicks, downloads and emailing.  With an integrated document management search, HR operations and the business, within their permissions, can instantaneously search and retrieve documents across their whole set of employees, making life just a bit easier so they can focus on more important tasks of the day.
Document and letter generation – while most SuccessFactors offers this capability, HR Operations is often needing something more advanced and streamlined, particularly for larger, geographically diverse organizations.  Advanced tools where you only have one template that is dynamically updated based on your region and has access to 3rd party data is requested frequently.  Why?  The value is to save time and coordination efforts.  The less templates and customizations to keep track of and sustain as organizations grow and regulations shift, the less efforts and time needed in HR Operations.
Compliance document storage and archiving – something with flexibility, folders and metadata that can be used to meet GDPR compliance, streamline retention and disposition, and support eDiscovery or record Hold requirements.  Again, value comes down to time and cost savings.  No matter the systems, you will do what is needed to meet compliance requirements.  Having a document management system with built in compliance capabilities will streamline this process and save organizations the effort of manually reacting to needs or manually tracking and managing compliance procedures with spreadsheets and email one item at a time.
Added functions, such as document audit and completeness reports – needed to check for expired or missing files and then take corrective action.  Once the basics are covered, HR professionals are looking for further task and process automation to streamline the day-to-day tasks of an HR department.  The value?  Primarily to save time and cost, but in many cases to actually get to the non-urgent work that tends to fall between the cracks.
So where is docuflow in all of this mix?  We have had enough requests that we have taken our successful model of SAP ERP content and process automation and applied it to HR systems, starting with docuflow for SAP SuccessFactors and SAP HCM.  It's a brand new product for us that will follow a similar model to our SAP ERP solutions. 
We hope you take the time to review and provide feedback not only on the solution but on the points we have shared above as well.  Do they stand true to you?  Have we missed anything? We look forward to hearing your thoughts.
For a quick demo of docuflow for SuccessFactors document management integration, please get in touch!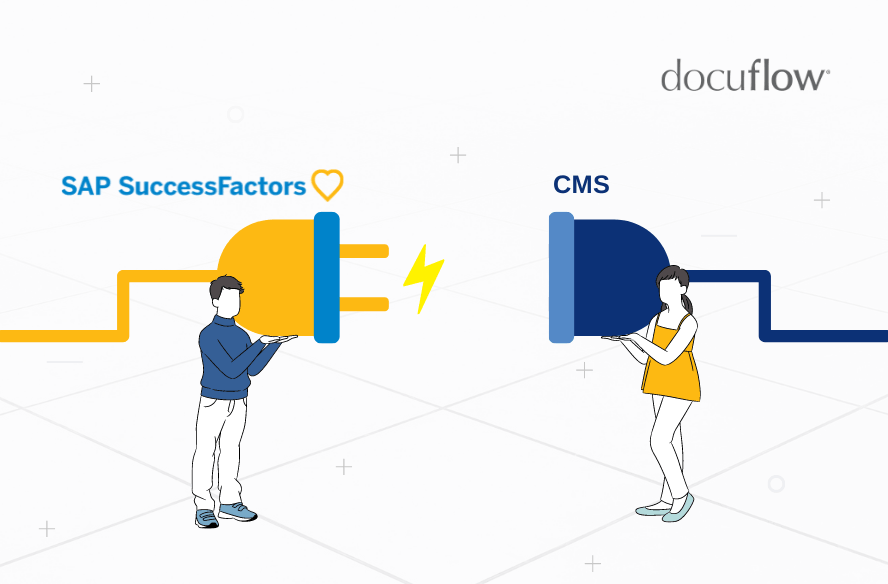 Sign up for future blogs and let us know which Intelligent Automation topics are of most interest to you.