3 Big Reasons to Modernize SAP® ArchiveLink
SAP ArchiveLink is a great long-term solution for storing and linking data, attachments and system output. However, many digital archiving solutions are built upon old, fragile legacy or custom-built systems that are becoming increasingly more expensive to sustain — requiring a significant amount of internal and external resources to support them. This can be troublesome for companies trying to reduce costs, ensure security and pursue strategic digital transformation initiatives. Several companies are starting to realize this and are shifting their workload to the cloud. Although they've made a well-informed decision, they face a new reality. To exceed their customers' expectations, they also need to enhance their tooling and processes for better efficiency and security. One simple way to help accomplish this is to modernize SAP ArchiveLink solution, and this step can be taken before or after you embark on your cloud journey.
Here are the 3 big reasons why modernizing SAP ArchiveLink is crucial for your business:
1. Sustaining legacy systems are costly
Although they were very reliable at a time, legacy systems are now problematic to maintain on their own. Today, the software industry is transforming at a pace that was considered unimaginable 10 years ago. Legacy systems are having a tough time keeping up, becoming more and more fragile and difficult to sustain. They have become liabilities, especially if unsupported by modern solutions. That's because several legacy systems are using outdated on-premise Enterprise Content Management (ECM) systems that are time-consuming to monitor, difficult to maintain and expensive to upgrade with climbing annual fees. They leave a heavy footprint that consumes your resources —  in terms of both hardware and, more importantly, people. Software developers must regularly update the code in these custom solutions to meet the needs of modern enterprise standards, which unfortunately just means more software developers are needed to do repetitive, manual work.
Upgrading to a cloud or hybrid-cloud content platform would solve these issues, as they are built to support modern technology. They manage massive volumes at ease and add value through process automation. Furthermore, ROI is often less than 1 year because cloud-friendly solutions are flexible, secure, easy to maintain, and align with today's corporate strategies.
Our clients can attest to that. We recently helped one team replace their homegrown solution that was tied to an old, unsupported Windows File Server. It would go down on a regular basis, and the person who customized it had left the organization without leaving much documentation on how it was initially developed and configured. Because of its obvious fragility, we replaced the solution with a modern cloud-based system and it solidified their business. With this new solution, they can now benefit from SAP task and process automation — driving even greater value for their business. Their system is now more reliable than ever, and they can focus on other important business matters.
2. Decrease security vulnerabilities and data loss
If security is important to your organization (which it should be), modernizing SAP ArchiveLink solution adds another notch in your safety belt. Protecting your content should be considered a primary concern, and a new modern solution will provide this protection with 3 important features: authentication, authorization and migration tools.
Authentication
Authentication ensures that your data can't be accessed by non-users, and is fully encrypted when being transported from one location to another. And to make things simpler, a new modern solution will store your data and attachments using trusted third-party repositories such as Microsoft® 365, BOX or IBM® CP4BA. These cloud-based services have the best-in-class security capabilities already in place, guaranteeing that your content and metadata is only accessible to the right people.
Authorization
This feature layers your company with another security blanket by separating users into groups with different levels of access. Let's say you are archiving information about an employee's contract agreement; you'll likely just want your HR team to have access to it for obvious privacy reasons. We can trust that authorization is already set up within SAP, but if this content is being used by non-SAP users — then modern solutions can accomplish this by leveraging organizations' on-premise or cloud-based LDAP as well as clearance levels and supplemental security markings. So, if a document is labeled as "top secret," a special security marking will be automatically applied to ensure that only key security groups can view it. This new authorization will then override any standard security policies that were previously configured.
Migration tools
If you've already decided to make your way to the cloud, you're naturally going to go through a migration process. This endeavor can cost thousands of dollars in change management efforts, impacting not only your ROI but also your end users. On top of that, migration is also susceptible to data loss. However, this process could also be quite painless with the right solution.
Modernized solutions with built-in migration tools can solve those potential issues in a few ways:
The tools are easy to use, allowing you to do your own migration with internal resources who know your content best.
When automatically relinking SAP content to a new location, users can continue their work without interruption.
Intelligent automation replaces manual efforts that are prone to error, preventing unwanted data loss.
And lastly, modern SAP ArchiveLink solutions have migration tools built in. This avoids the need to invest in third-party tools or build your own, putting money back in your budget.
So not only does modernizing SAP ArchiveLink add a layer of security to your digital archiving system, but it can also efficiently migrate your content to the cloud — saving you costs and improving overall performance.
3. Align with a cloud-first strategy
One thing that we know for sure is that organizations are quickly making their way to the cloud. For smaller companies, this is a no-brainer. But for larger enterprises, the move can be tough. Despite the painstaking process, a cloud-first strategy will become increasingly more cost-effective as more workload is moved to the cloud. In our experience, most companies are well aware of the inevitable cloud-enabled future. So, they start with the easy stuff and pick the low-hanging fruit first: moving large file shares. Your SAP ArchiveLink that includes business documents and data objects fall into this basket.
To demonstrate the benefits of an early transition, here's a real-world example. One of our clients was looking to replace an on-premise legacy repository that was expensive to sustain and no longer fit their organization's cloud-first strategy. We helped by seamlessly — and safely — migrating their data to the cloud. They were thrilled that it didn't require any change management or user retraining efforts on their end, saving them a lot in unwanted costs. More importantly, they were happy that their customers weren't impacted in any way during the process. They're now prepared for the upcoming transformation from SAP ECC to SAP S/4HANA, and feel like they're ahead of the game amidst this very large ERP transformation.
Future-proof your business
Whether or not you're planning to migrate to the cloud, modernizing SAP ArchiveLink solution is an important step forward for your business. VersaFile® has a SAP Certified cloud-friendly content platform called docuflow® that helps to improve performance with task and process automation, fortify security measures and ultimately make your life easier when it comes to digital archiving. It will also prepare you for what's coming: the evolution from SAP ECC to S/4HANA. And while the S/4HANA evolution is a big multi-year project, you can get a head start by moving your content to a cloud architecture.
In summary, docuflow will better your business by:
Saving you IT maintenance and sustainability costs
Greatly reducing security risks while preventing data loss
Aligning your company with a cloud-first approach
There's no better time to invest in the right platforms that will prepare you for the upcoming transformation. Modernizing SAP ArchiveLink solution now is a calculated step closer to a cloud-first future. Regardless of your SAP ArchiveLink product choices, the VersaFile team is always open and willing to share their experience, thoughts, and ideas. Need a hand? Give us a shout!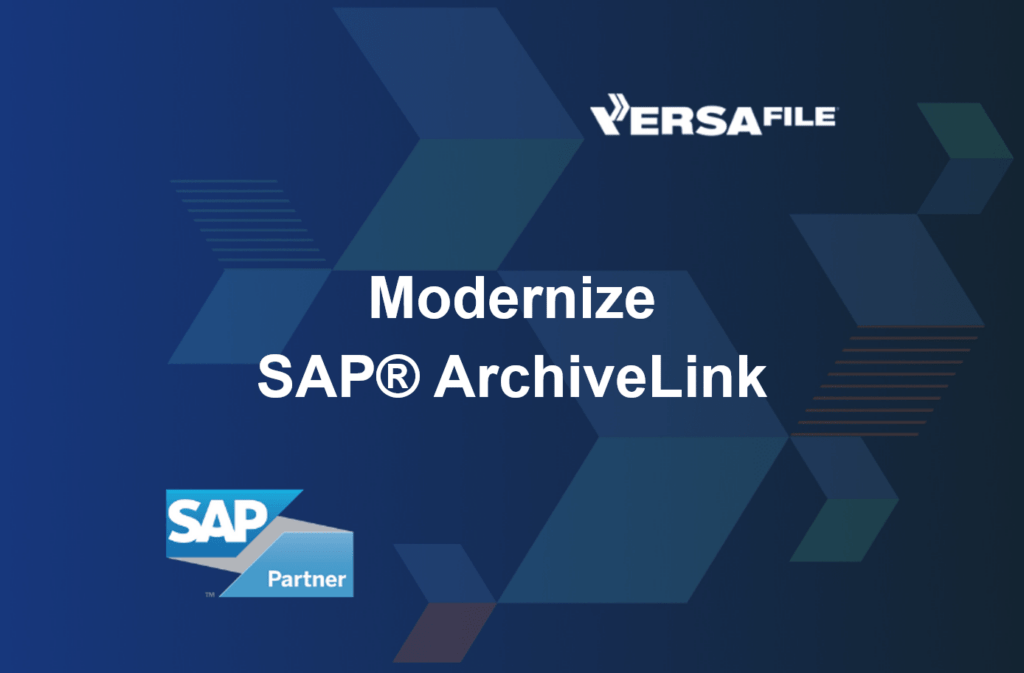 Sign up for future blogs and let us know which Intelligent Automation topics are of most interest to you.