VersaFile Integrates with Box Sign
Vancouver, BC – September 26, 2022 – VersaFile Inc. announces docuflow® for SAP is now integrated with Box Sign. Building on its existing integration with Box, this new capability allows customers to automate their SAP signing processes and tasks. The new integration is available immediately and included within the docuflow for SAP solution for Box.
VersaFile already integrates with Box and offers a no-code/low-code SAP Certified solution to help organizations reduce cost, mitigate risks, and align with cloud strategies. At BoxWorks 2022, VersaFile will showcase its latest docuflow capability that now integrates Box Sign across modules within SAP ECC and SAP S/4HANA. The extended integration will streamline critical SAP approval processes that require signatures, both inside and outside of SAP leveraging the Box Content Cloud.
"SAP customers are going through massive digital transformations. Having Box's Content Cloud and its e-signature capabilities deeply integrated with your SAP ERP platform will be a key component for automation and keeping processes digital, end-to-end. End-to-end digital processes save time, reduce costs, and provide a better experience for customers, vendors, and partners." – Sean Fitzpatrick, CEO VersaFile Product Group.
Combined with docuflow's TrackLink, a process orchestration tool based on SAP workflow, SAP customers will be enabled to automatically track and gain increased visibility to the status of outstanding SAP signing tasks. Having this capability will automate notifications and escalations, saving user's time by avoiding manual tracking in spreadsheets, and eliminating ad-hoc status requests and email follow-ups. The new solution will also help customers ensure better agreement compliance and control risk associated with potential downstream contract issues.
"Organizations around the world are focused on prioritizing frictionless operations to keep up with today's changing hybrid work environments," said Fred Klein, Vice President of Business and Corporate Development at Box. "We developed Box Sign to help customers move more of their business processes online and we are excited to deepen our integration with VersaFile to save users' time and reduce spend."
Box and SAP integration:  
Supporting SAP ECC, S/4HANA, SAP Sales Cloud, and SAP SuccessFactors, docuflow, is an SAP Certified solution that integrates Box with SAP systems for seamless archiving, linking, and process automation experiences across the Box Content Cloud. docuflow helps organizations modernize their SAP ArchiveLink solution and move workloads to the cloud with Box, jumpstart their move to SAP S/4HANA by reducing the size of SAP systems, and replacing legacy custom code, resulting in opportunities for greater digital automation of SAP processes. 
Box Sign and SAP Integration:  
Supporting modules within SAP ECC & SAP S/4HANA, docuflow integrates Box Sign with SAP to automate SAP signing processes and tasks. SAP sub-modules include but are not limited to: Financial Accounting (FI), Supply Chain Management (FSCM), Controlling (CO), Materials Management (MM), Sales and Distribution (SD), Logistics (LE), Production Planning (PP), Quality Management (QM), and more.  
About VersaFile
VersaFile® is a Vancouver-based software company helping organizations running SAP to modernize how they integrate and automate content across their business.
We are easy and fast to implement

We are integrated deeply into SAP business applications

We take an automation first approach
Simply put, VersaFile docuflow is the modern alternative for content & process automation with SAP. 
To learn more about VersaFile, visit www.versafile.com/box/.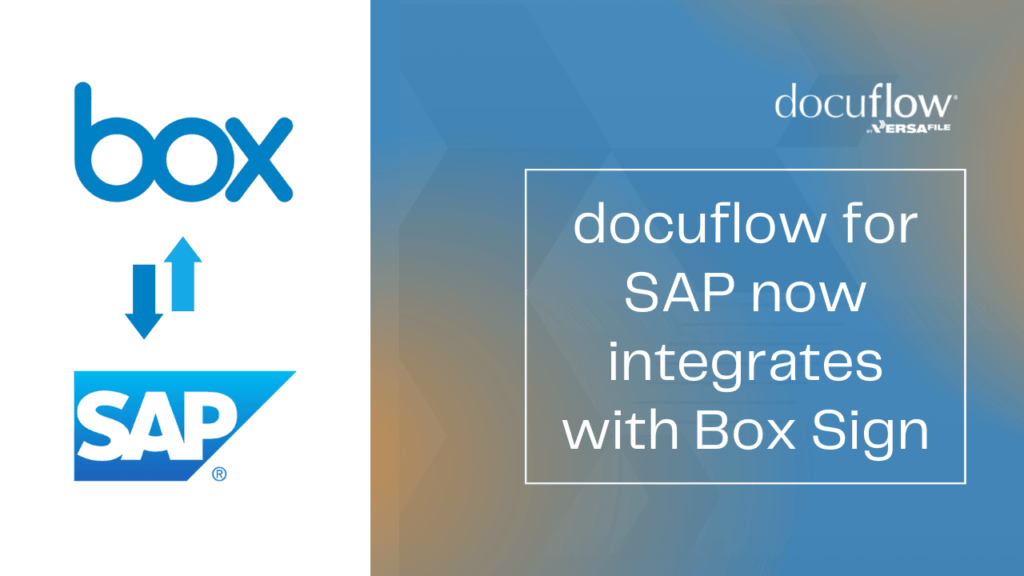 Sign up for future blogs and let us know which Intelligent Automation topics are of most interest to you.