docuflow is an SAP Certified low-code/no-code suite that integrates and automates SAP workflows with your content services repositories.
docuflow SAP/ECM integration includes document storage, linking, bidirectional metadata transfer, process and workflow automation as well as SAP ArchiveLink processing. Line of business solutions, such as Accounts Payable, and additional add-ons, such as SAP DMS integration and SAP AuditLink, can be leveraged in addition to the baseline functionality.


Inside and Outside the SAP Boundary
The SAP ArchiveLink framework plays a key role in docuflow, however the more powerful and richer capabilities leverage docuflow components both inside (SAP transport component) and outside the SAP boundary (middleware component) together, providing the most powerful and flexible SAP to content services integration options available. The overall product suite offers enhanced user-based storage and linking, no-code bidirectional metadata transfer and workflow triggering, all supported by a comprehensive SAP-based administrator workbench monitoring, utilities, migration capabilities and reporting functions. All services within docuflow can be deployed in unison or in a more modular fashion, many easily controlled and configured in the administrator workbench.
docuflow also provides a powerful content API set of SAP BAPIs to allow full SCRUD (Search, Create, Read, Update, and Delete) functionality to fulfill any custom requirements. 
If you would like a deeper view of the docuflow component and architectural breakdown, contact us for the latest copy of our docuflow Technical Overview Paper.
Designed using SAP best practices and standards, docuflow is SAP Certified which allows interoperability across SAP modules belonging to ECC (ERP Central Component), Business Suite on HANA, CRM and S/4HANA. If you require support for other modules such as SAP SuccessFactors, Concur, Ariba or others, please let us know so we can plan our roadmap investments for the coming quarters.
Supported Content Services Platforms
docuflow is architected specifically to extend support to any open and available Enterprise Content Management platform or Cloud Content Services system. Today we offer readily available connectors and commercial support for:
Microsoft 365 SharePoint Online

Microsoft SharePoint On-prem versions 2013, 2016 and 2019

Box Cloud Content Services

IBM FileNet Content Services

OpenText Documentum

VersaFile Private Cloud Content Services
With 4 to 6 weeks of lead time, VersaFile can provide a connector and commercial support for any open and available content platform, including high volume transactional storage such as AWS S3 or Azure Blob Storage services.
docuflow Deployment Options
The docuflow middleware component can be deployed and managed on-premise, in a managed cloud service or within your own tenant of a private cloud instance or even as a fully managed service from VersaFile.  docuflow supports all major cloud service providers, including but not limited to Microsoft Azure and Amazon Web Services (AWS). When deploying on-premise or in a private cloud environment, physical or virtual hardware is supported. 
COMPONENT AND ARCHITECTURE OVERVIEW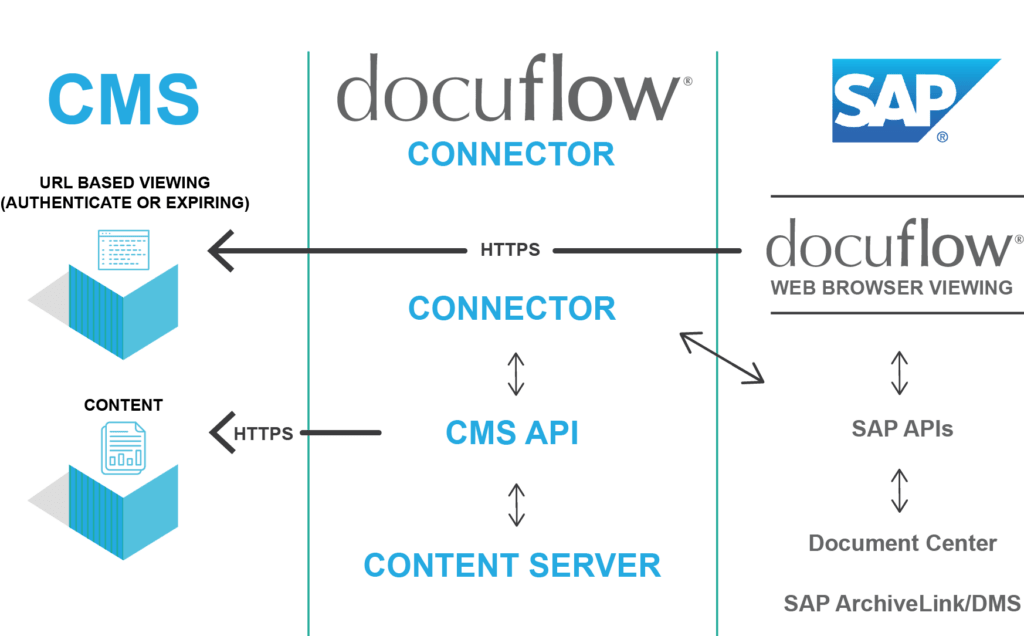 Our no-cost Automation First Workshop helps you uncover the value SAP content & process automation can drive for your business.