Get in Front of Your SAP® S/4HANA Migration
Unexpectedly, With a Modern ArchiveLink Solution from IBM® & VersaFile®
No surprise here…you're planning a migration from ECC to S/4HANA. You know that it's going to be a multi-year project ripe with risk, especially regarding timeline, change management, and the one we all dread — cost! Speaking of costs, what's in your business case to justify it all? It's in the preparation of your business case that you will discover some key opportunities for longer-term business improvement, cost reductions and risk mitigation. What you may not realize today is how a modern ArchiveLink approach could play a big role in helping mitigate your risk, save on implementation and platform costs, as well as open the door for greater digital automation for your SAP tasks and processes. 
Here's how a modern ArchiveLink solution will contribute to your S/4HANA migration project:
Many SAP customers are operating more than one archiving solution. This may have happened because of specialized needs or most likely through one or more acquisitions. This is not an ideal situation for your move to S/4HANA because from what we've witnessed, legacy costs bubble up in three ways:
Multiple legacy repositories means maintaining multiple servers, multiple license renewals and multiple skill sets
More systems to manage and test during the migration
Residual attachments in your SAP database will cost to migrate but also becomes much more expensive sitting in HANA's in-memory database.
There is an opportunity to consolidate these systems and save hundreds of thousands of dollars in a year with a modern ArchiveLink solution that operates in a cloud or hybrid cloud environment. These solutions already have built-in migration and federation capabilities that not only move the content, but relink it, augmenting its metadata and making it seamlessly available when you migrate your records to S/4HANA. With consolidation, .
Some examples of where you can save costs include:
Annual software maintenance costs (for example, by decommissioning older platforms such as Documentum)
Expensive platform upgrade services and support models
Complex system administration
Hardware costs and support
Storage costs
Operations costs
If you're not yet archiving content and/or data, this would be a fantastic time to start, because if you're anticipating a migration to S/4HANA, archiving could save you a lot of costs during and after the process. It will prompt you to evaluate your content, removing the disposable transactional data that's just hanging around in your database. For instance, when an SAP customer has yet to configure storage locations for attachments, they all end up in their SAP database. Migrating this adds to your overall volume and the larger the volume, the more you'll pay in HANA database costs.
Does any of this relate to your case? You're not alone. The SAPInsider SAP S/4HANA Migration Benchmark Report published in 2020 stated that over 40% of their respondents were planning to clean, delete and/or archive data to minimize their S/4HANA footprint and down-time during migration. Take this opportunity to save costs, leverage cloud transformation strategies and infrastructure that are likely either in place or in progress at your organization. And when you migrate early, you can benefit from modern HANA-optimized ArchiveLink solutions that can reconnect your content seamlessly.
2. Reduce Implementation Costs
Let's say you're taking the advice to clean up your legacy data. Congratulations! You're going to save a ton on migration and implementation costs. But here's another tip: another way to reduce your migration costs from ECC to S/4HANA is eliminating as many customizations as possible and simplifying your solutions with off-the-shelf add-on products or preset solution patterns.
It is common for SAP customers to operate hundreds of small custom programs in their SAP ECC systems with many of these applications and ABAP programs never making it to production. Even worse, a lot of them are simply copies of existing programs with minor differences between them. In the world of SAP document management, we see inefficient programs manually created to automate tasks and processes. But when it comes to content integration and transports, most of these automation needs can be configured using modern ArchiveLink solutions that are HANA ready.
Replacing custom programs will simplify SAP environments and reduce risks and costs when migrating from ECC to S/4HANA. So, eliminate custom ABAP code wherever possible to ensure that it is compatible with your new and improved in-memory database, and you're optimizing its full potential.
3. Cut Down Implementation Risks
Migrating your archives and content early will greatly reduce risk during your move to S/4HANA. And as mentioned earlier, transitioning to S/4HANA is indeed a multi-year project, but, investing in a modern ArchiveLink solution will speed up the implementation timeline and save you from unnecessary headaches. One of the biggest reliefs from this investment is that document attachments can be pre-migrated and made ready for S/4HANA Go-Live — all seamless and minimizing change for your end users.
The ideal scenario is that this transition doesn't impact your customers and using a modern ArchiveLink solution with built-in migration tools will help you achieve that. They can move your data archive objects and documents and re-link the SAP attachments to their new location with ZERO impact on end users. And another relief is that once you successfully transition to S/4HANA, ArchiveLink will be fully supported.
While this is seemingly one small piece of the project, it is one action item that you can check off the list now without the need to spend more on change management or retraining users. This is nice when you consider that over a third of a company's business processes will need to change when migrating to SAP S/4HANA — there's just no getting around it. Users will need to adapt to new paradigms in order to complete their tasks, using new SAP Fiori applications. Clearly, you have enough change on your hands, do this migration early and get it out of the way.
4. Maximize on Digital Transformation Opportunities
The multi-year journey to S/4HANA is no doubt a challenging one, which is why every effort counts in making it as seamless as possible. Moving your archives early without affecting your users will not only help you save time but can open the door to digital transformation in an iterative way that doesn't cost you millions.
Modernizing your ArchiveLink solution will open the door to leverage intelligent automation, tackling SAP tasks and processes and improving overall business functionality and user experiences. It may seem like a small solution; however, it reaps big benefits. Especially when it comes to simplifying operations and maximizing on customer engagement and efficient decision making.
To stay competitive in the industry, it is imperative to find innovative approaches to solving everyday business problems, increasing productivity and more importantly, serving our customers to the best of our abilities. One way could be integrating content and key transactional data into other line of business solutions or workflow tools without custom integration coding. Another could be networking and sharing content across applications for faster processing and decision making, decreasing manual tasks — digitizing your processes end to end.
I think by now you're well aware that migrating to S/4HANA means a lot of planning, and more than a few hurdles to overcome. But thankfully, we live in the digital age where solutions are ready at hand to make these processes easier. Optimizing and pre-migrating your content and data archives to S/4HANA into a consolidated cloud or hybrid cloud platform will greatly reduce your migration costs and risks (with way less disruption for your end users).
VersaFile has over a decade of experience implementing IBM document management and archiving solutions with their product: docuflow SAP Extension Kit. It is entirely based on SAP standards, follows HANA best practices and is cloud optimized. Combined with IBM's Cloud Pak for Business Automation (CP4BA), which includes IBM Content Collector for SAP, our "Better Together" solution can help IBM customers save costs and reduce risks associated with their migration to S/4HANA.  In summary, docuflow is the modern ArchiveLink solution your business may need moving forward.
Contact us at your convenience and we can set you up with an SAP S/4HANA ArchiveLink readiness assessment! We're here to answer any questions you may have and help make your migration to SAP S/4HANA journey as smooth as possible.
Be sure to watch our webinar on '3 Opportunities to Enhance Your S/4HANA Migration' to learn more about how docuflow can:
Cut costs
Greatly reduce risk
Increase business automation
Mobilize migration processes
In this 30-minute webinar, we go over everything we've covered in this article followed by a short demo. Still not sure where to start on your S/4HANA journey? Get in touch with our SAP Experts.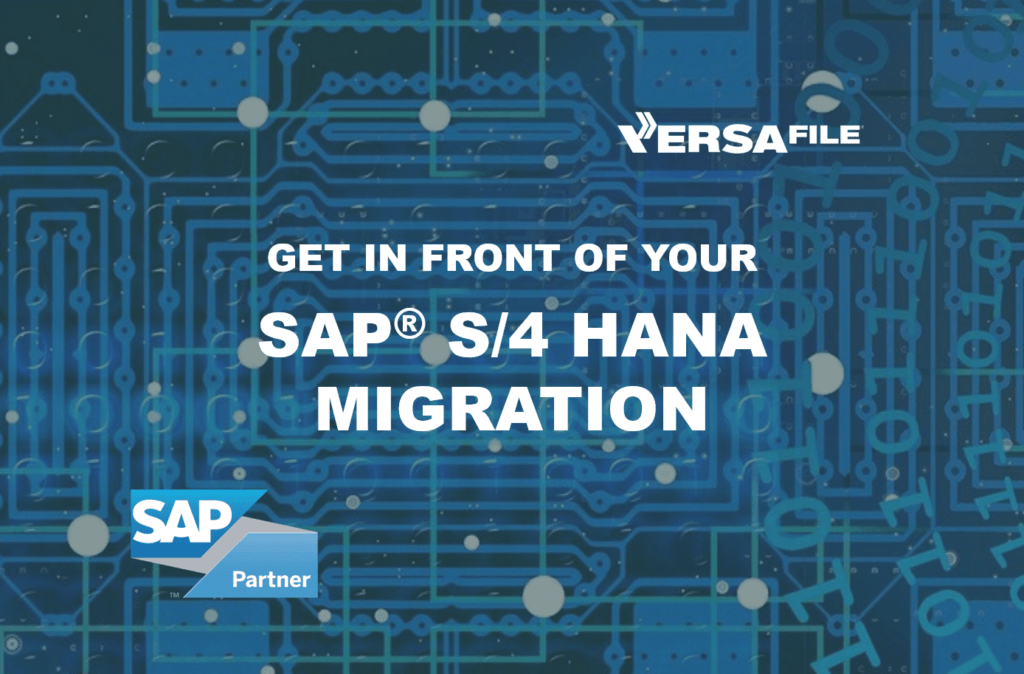 Sign up for future blogs and let us know which Intelligent Automation topics are of most interest to you.